In Durban the Indian media group members were already talking about Bunny Chow. Being a vegetarian I initial thought it has something to do with a rabbit! Thankfully my suspicions were completely unfounded and Bunny Chow feels like a close cousin of our Paav Bhaji. Both vegetarian and non vegetarian options are available.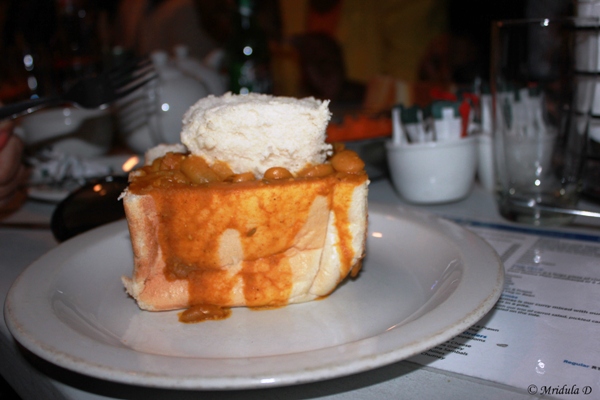 Bunny Chow
I was surprised to see a detailed Wikipedia page devoted to Bunny Chow! It traces two origins of the dish in Durban and both have Indian roots. The first time I tried it out the bread and the gravy was kept separately and I don't think I did a decent job of mixing it.
The next time we ordered at the Taste of India at Durban and they did it really well. This is a popular Indian dish at Durban and if you are craving for some home food you can safely order it. The restaurant also had daal/rice and many other biryani.
But if you want Durban Indian food Bunny Chow is a legend and it has to be tried once. South African food is also spicy in general and you don't have to worry about the food being bland.