We visited the Sungai Pasu home stay in the state of Pahang in Malaysia yesterday. It was a charming place but then I am really partial to small places, rural places. But it was the children of the place who really stole my heart.
We were greeted by music played by these boys and we walked to the music to the main hall of the village. It was a very warm welcome.
And then there was this little one with cool shades and all. But I liked the colorful umbrella he was carrying and they had made it on their ow by sticking them in papaya fruit!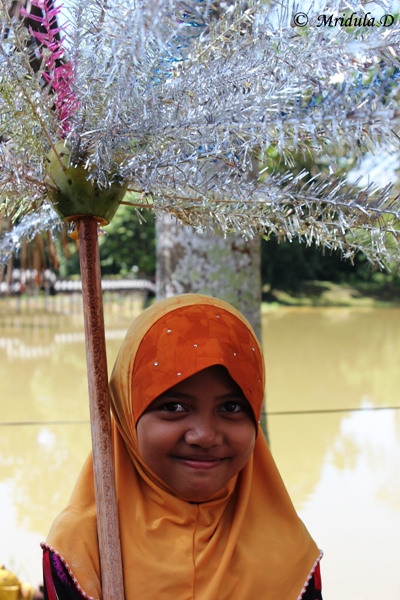 And then there was this girl with her shy smile holding a similar umbrella! She did pose for me readily and was quite happy to see her picture in the camera display.
Then there was this cute boy happy to stand with daddy. His father it looks like taught the musical instrument to the kids as he was also posing with them.
When I sat down next to this young kid he told me his name in English. So I started talking. A little later I realized he could speak only his name and class in English but I really liked his effort!
And finally there was this young one who would say no to anyone who tried to click his picture, until he found his mummy.
I am usually quite scared to click people but there is an advantage of traveling in a group of 100 plus. As everyone is taking pictures, I just need to join them! And that is how I clicked these pictures.