Everest Base Camp trek has been on my radar for long. However I would always let it go thinking it would take too much time, the season will not suit my teaching schedule etc etc.
But all this changed when I met Sir Chris Bonington. During his talk he asked if anyone of us had been to Everest Base Camp and seen Khumbu Icefall? No hands went up. I was determined to change this for his next year's talk! Also while chatting with him I asked if mid May was a good time to trek up to Everest Base Camp and he said it was indeed a very good time. What more encouragement would I need?
Then came the task of finding an agency to do my bookings with. Since Chhavi is too small to trek with us my husband and I take turns to trek and I was going to do this solo. For a lot of my travel needs I have relied on the recommendations from Indiamike and this time also the good folks gave me the name of Puru Timalsena and his agency Above the Himalayas Trekking. We talked over email and I liked what I heard and decided to go with them.
To Nepal via Malaysia: While I was counting days to get started on the trek, an speaking invitation from Malaysia came my way. The dates to Malaysia were not clashing but I was on flying from Malaysia on Thursday (May 10, 2012) working on Friday in India (May 11, 2012) and then flying to Kathmandu on Saturday (May 12, 2012). That made it so tiring. Thankfully my trek started only on 14th May.
There was a pick up arrangement for me at the Tribhuvan International Airport at Kathmandu. I stayed at a basic lodge called Wonderland, the Trekker's Inn. Puru had offered me accommodation at a 3 star property but I told him I needed a clean room and hot water and that is exactly what I got. The free wifi at the inn was a big bonus.
I tried to recover as much as I could on 13th and that meant catching up on sleep. I also managed to get a Ncell sim at Kathmandu so I had a local number in Nepal. Apart from two places it worked on most of the route including at the Everest Base Camp itself.
I met my guide Deepak for the first time on 13th May too. He was going to be my guide and porter as I am not good at carrying weight and walking at an altitude.
Air Rescue? What Air Rescue?: While Puru was taking down the details like emergency contact numbers, health insurance policy etc, he asked if my policy covered air rescue too? I was stumped, I had no such deal, it didn't even occur to me. So I asked if I could get one from Nepal. He said both Nepal and India were not known for offering it and in the end I decided to go ahead without any air rescue coverage. I have lived to tell the tale but I would like to highlight this to you if you are considering trekking up to the Everest Base Camp. Apparently it is easy to get from many countries but I was not even aware of this before starting from India.
And the Journey Begins: We were flying from Kathmandu to Lukla. Deepak was to pick me up from the hotel at 5.20 am. There was another girl Diana trekking with Above the Himalayas and staying in the same hotel and her guide's name was Gokarna. So at 5.20 4 of us boarded the taxi and started upon our adventure.
If you do not wish to fly, Lukla can be reached from Jiri by land but as I have not done it I do not know much about it. I just thought I would mention this as an option, I think Jiri Lukla is a 7 days trek.
Lukla Airport: We had the flight with Tara Airways (formerly Yeti Aiways) and it was a small 1X1 plane. I hate such planes because they get thrown around like anything in turbulence. Thankfully the flight is small about 30 minutes. I was lucky there was hardly any turbulence on this day. Within no time the plane was making a touch down.  And by god what a runway it was! The Lukla runway is on an incline and not straight! So the plane goes up after the touch down. Anyway by the time this would sink in we were already at a lodge called 'The Nest' ordering our breakfast. I ate a banana pancake with honey and tea!
Walking from Lukla ( 2860 meters, 9383 feet) to Phakding (2652 meters, 8700 feet): If you compare the heights you can see Phakding is actually lower than Lukla so it meant most of the journey was downhill.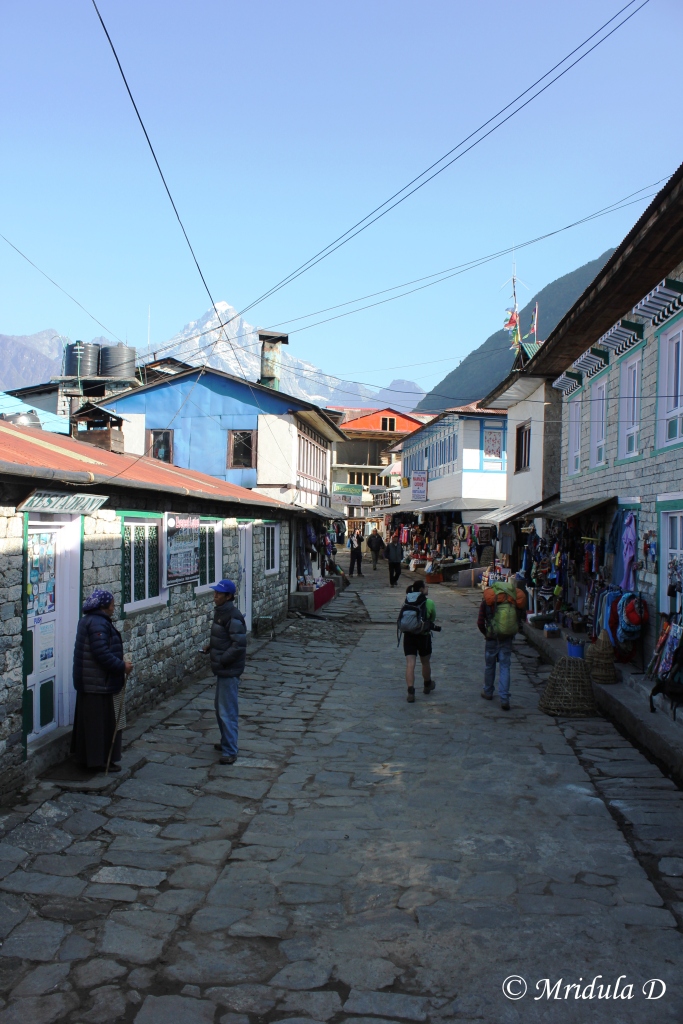 We walked through the main bazaar and it was a lively affair. I was also found intriguing the signs like snooker and bar.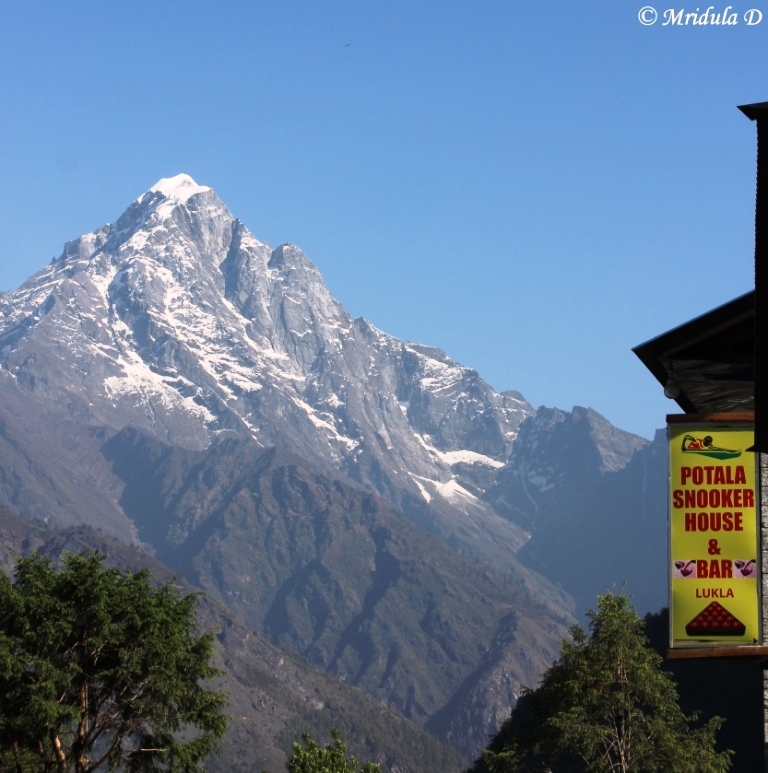 Soon we crossed a gate that is devoted to Pasang Lhamu Sherpa, the first Nepali women to climb the Mount Everest. Many considered this day's walk to be a cakewalk. I would agree that terrain wise it was not too difficult. But I still found it tiring.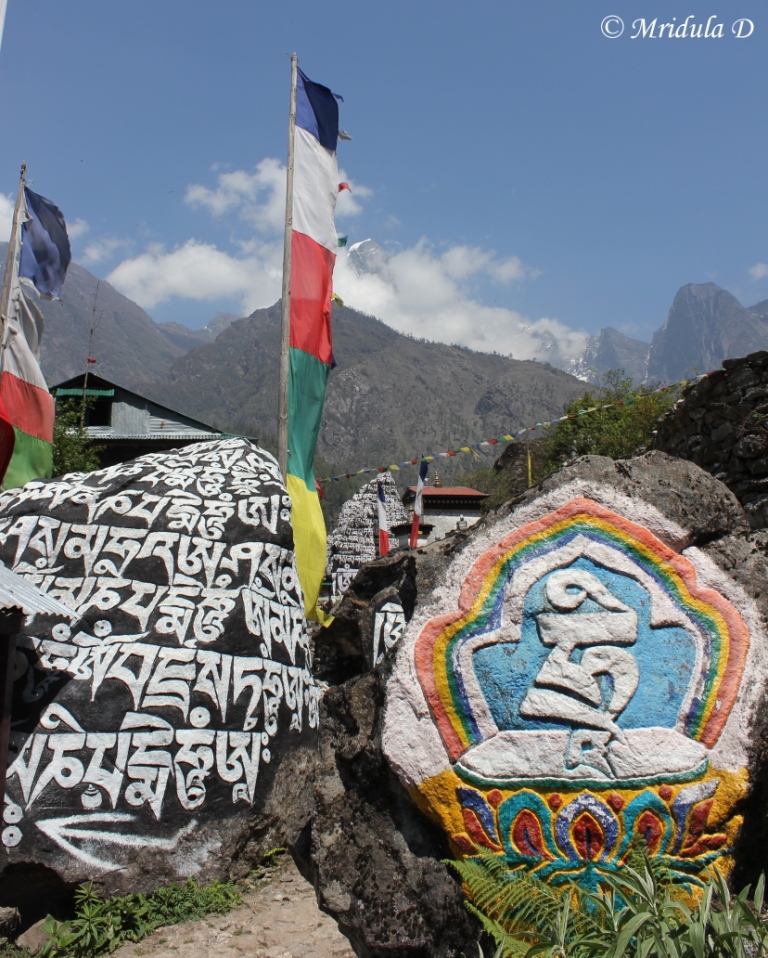 The beautiful scenery along the way helped in keeping the mind off fatigue, for fatigued I was. After all Lukla itself is at 9000 plus feet and walking immediately on this height was not so easy for me.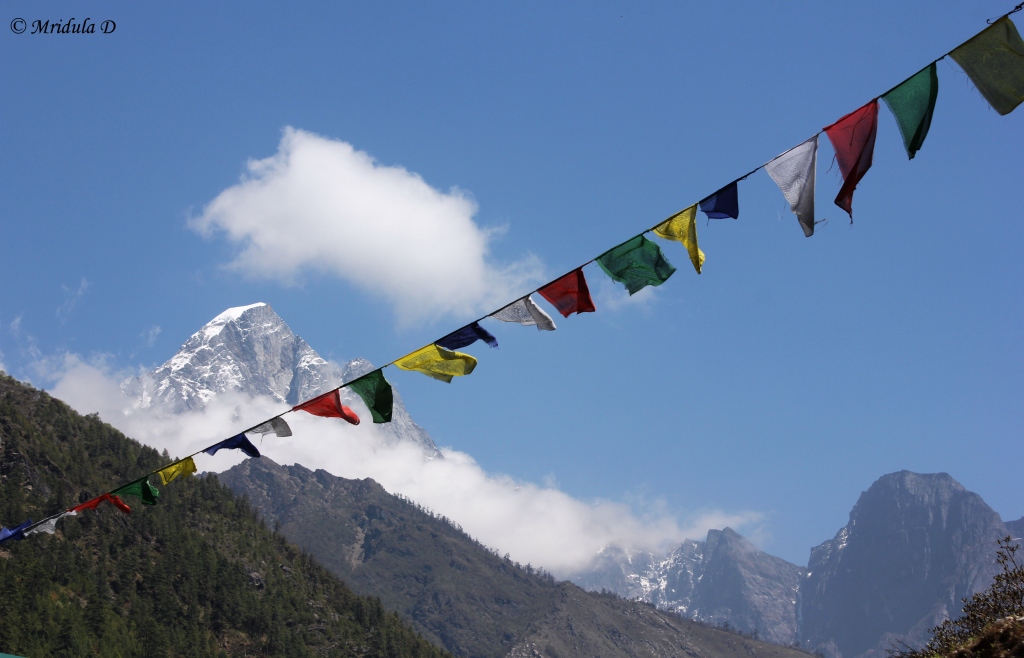 I walked through looking at the peaks and prayer flags but the major concern was to reach Phakding. And for me it was talking its own time in revealing itself.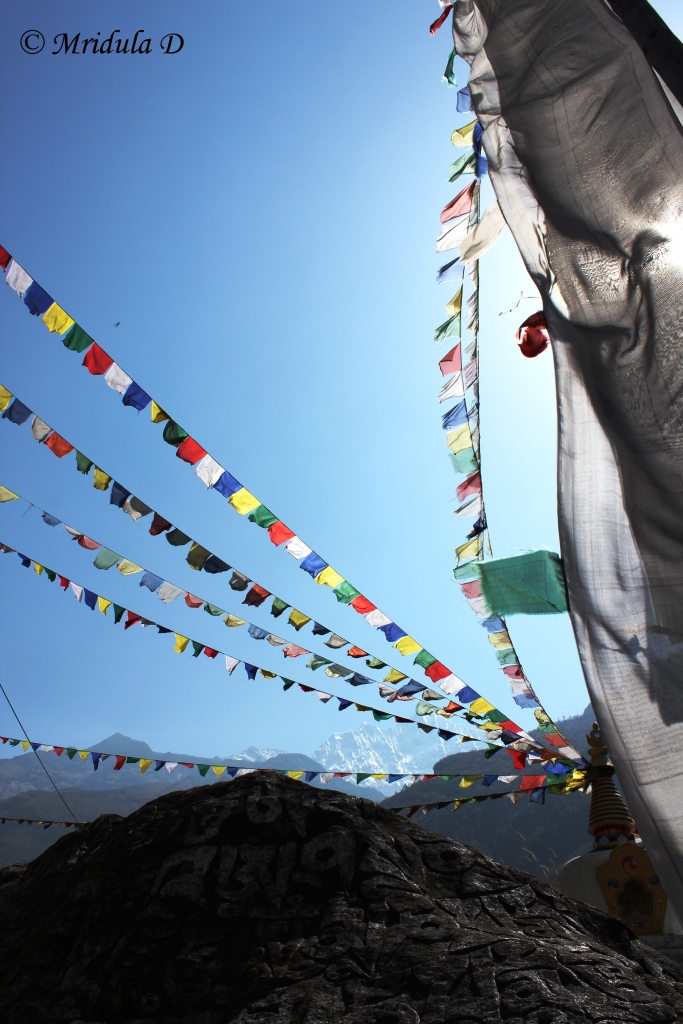 Photography while walking is a task in itself, most of these pictures were also clicked when I was out of breath and needed a reason to slow down!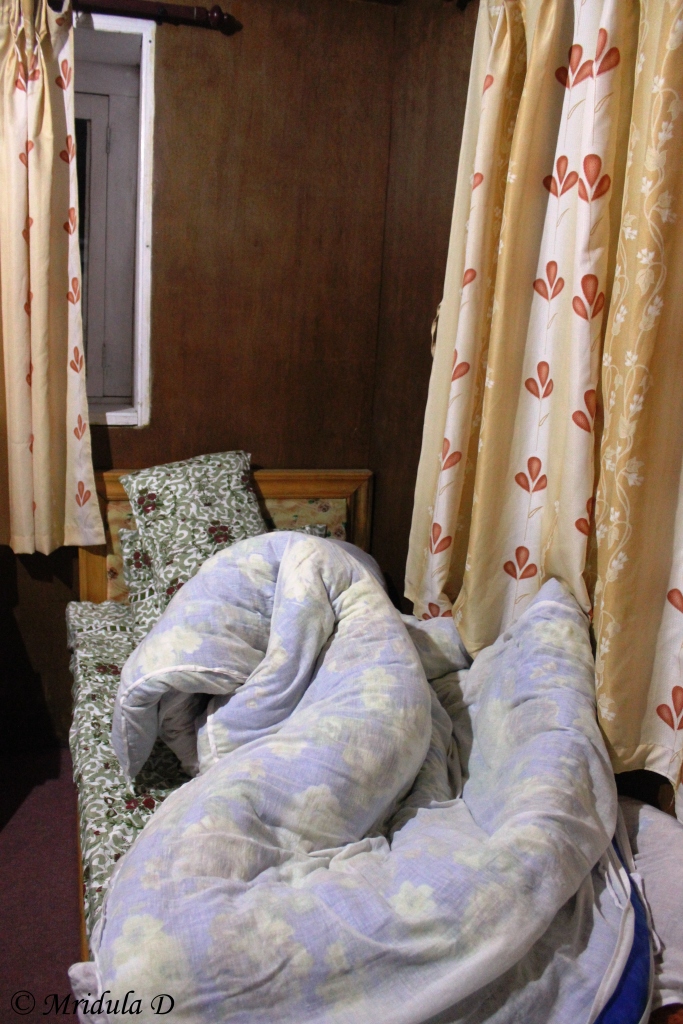 Finally after walking for something between 3-4 hours we reached the Beer Garden Lodge at Phakding and this was my room for the day. Deepak left my luggage and I promised him to show my face in a while in the dining hall. Even though this was an easy walk I was completely knocked out. This room had an attached bathroom and people who trek can imagine what a luxury it was!
I collapsed on the bed and slept for 45 minutes without stirring. When I woke up I was not sure where I was, in Malaysia, India or Nepal. I have to admit I was quite upset as well. If I was this tired after such a small walk, I was left wondering how would I cope up with more strenuous days and higher altitudes?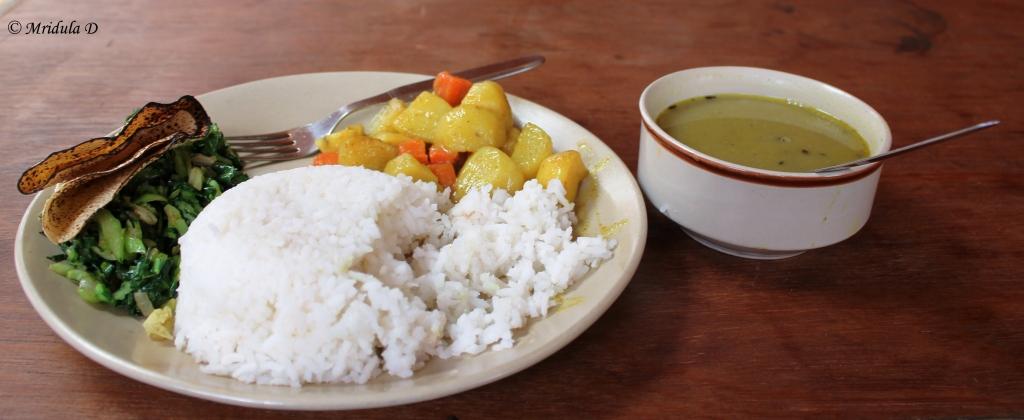 Anyway pushing the doubts aside I went to the dining room and ordered Daal Bhaat (Rice and curry with vegetables) for lunch (you can buy T-shirts in Kathmandu which say 'Dal Bhaat Power 24 Hour'). I also had many ginger tea. In city I drink tea without sugar. On the trek every cup of tea that I consumed had a thick layer of sugar in it. I also met Diana at lunch and she had walked the same distance in one and a half hour!
After lunch I slept for 2 more hours. Dinner was around 6.30 pm and I ate noodles but couldn't stand the smell of the cheese (which I otherwise like so much). I hit the bed around 7.00 pm and I had sincere doubts about my survival on the trek, I was still feeling so lousy. But then I decided to take one day at a time and get a good night's sleep. Our next stop was Namche Bazaar.
You can read the account of the other days of the Everest Base Camp Trek too-
Day 2 and 3 of the Everest Base Camp Trek: Phakding to Namche Bazaar and Rest and Acclimatization at Namche
Day 4 of the Everest Base Camp Trek: Namche Bazzar to Tengboche
Day 5 and 6 of the Everest Base CampTrek: Tengboche to Dingboche, Rest and Acclimatization at Dingboche
Day 7 of the Everest Base Camp Trek: Dingboche to Lobuje
Day 8 of the Everest Base Camp Trek: Lobuje to Gorek Shep, Gorek Shep to Everest Base Camp and Back
Day 9 of the Everest Base Camp Trek: Gorek Shep to Kala Pathar, Descent to Pheriche
Day 10 of the Everest Base Camp Trek: Pheriche to Namche Bazaar
Day 11 of the Everest Base Camp Trek: Namche Bazaar to Lukla