I have to admit I am spoiled when it comes to the mountains. After all one of the perks of staying in Delhi/Gurgaon is that you can travel overnight and be in the Himalayas. So when I realized that Fraser's Hill (in Pahang, Malaysia) is 1524 meters (5000 feet) in altitude I was quite ambivalent about it. It was our first night halt after Putrajaya on the Malaysia Tourism Hunt 2012.
But what completely blew my mind away was the flora and the vegetation. I had a short stay at the Fraser's Hill but what I saw was completely amazing and so different from the Himalayas.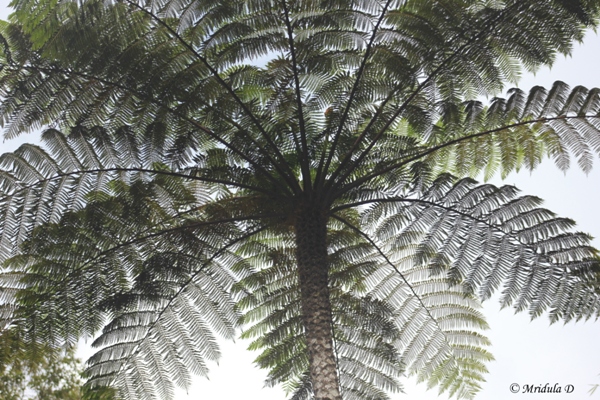 I have seen ferns all my life but it was a first to see it growing like a tree! And quite aptly it is called a tree fern. A few of them growing together gave an impression of being in a really ancient setting. I wish I had more time to take pictures in better light. It was overcast in the evening and it was actually raining intermittently in the morning!
We had an hour of free time before the hunt activities started. I took a stroll around our hotel, Shahzan Inn. And as Calvin (of the Calvin and Hobbes fame) would say I immediately stuck gold. I found this insect hanging from a flower petal.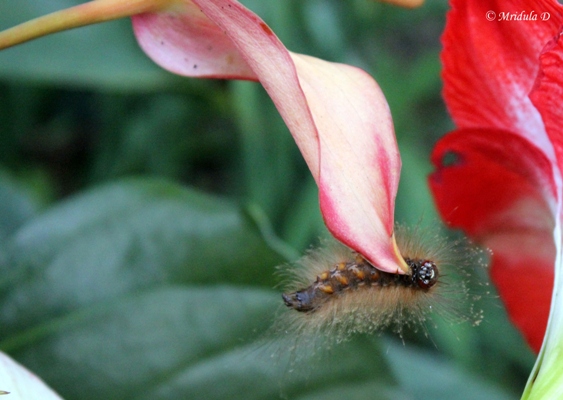 Soon after clicking the insect, I kept walking ahead because one hour is not much time if you go chasing insects and birds! I did manage to see Black Throated Sunbird but could not manage a single decent picture. I walked up to this signpost proclaiming Bukit Fraser near the golf course and it was time to head back for the hunt activities. Selamat Datang in Malay means welcome!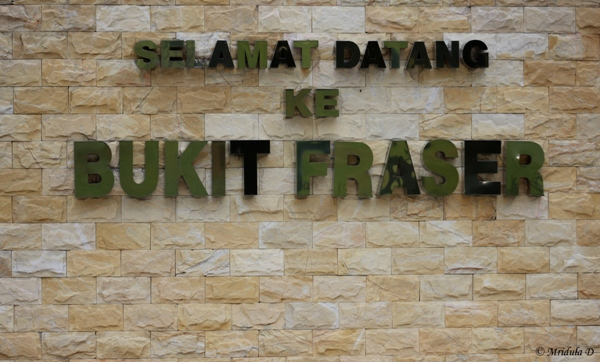 Our hunt activities took us all over Fraser's Hill, to their horse riding and archery center and to the lake where boating is on offer. But my task was to hunt for birds and click their pictures as that was also part of the day's task. I did manage to click a few but I have only one worth posting.
This Streaked Spiderhunter of the sunbird family was not shy at all and I managed to click quite a few pictures before it got annoyed and flew away. Fraser's Hill is a paradise for birders but as I had very little time I hardly saw a few and could click even less. I got fleeting glimpses of exotic birds but not much beyond that.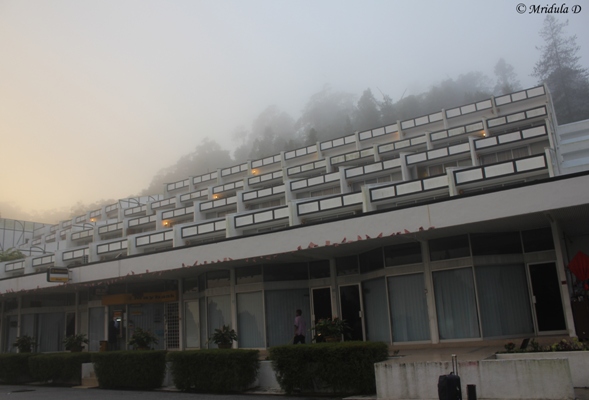 My biggest surprise was in the car park of the Shahzan Inn. It was an outdoor car park at level 3 or so. While I was taking my stuff out from the car boot I saw a butterfly at least as big as a sunbird and my jaws dropped! It is a big regret that I could not go chasing them to click a picture.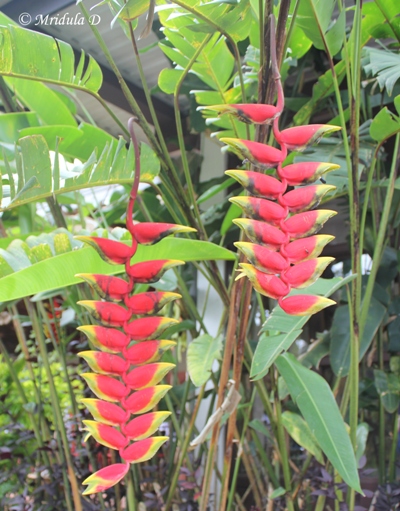 Exotic tropical flowers are in plenty at the Fraser's Hill. These Lobster Claws were growing in the hotel premises itself. After dinner we went for a night trek. I have been to the jungle many times before but many of the participants were completely taken over by the idea of being in a jungle. I have to admit it was a lot of fun to be there at night. We saw a lot of trap spiders who live by the hillside and if you do not know where there trap doors are you cannot figure out they are around. The expert from the Fraser Hill showed their habitat to us.
While walking back it was almost midnight. It started to rain. I didn't wish to get wet and two of us, Zaidie and I, jogged back to our hotel. Only we stopped at a restaurant nearby as there was after dinner supper waiting for us, full of sweet and savory dishes and Teh Tarik (which is as close to chai as anything I have tasted). And guess what? I ate after 11.00 pm or so!
When I crashed finally, I woke up with great reluctance only the next day. But the way to our next stop Bukit Gambang was quite beautiful.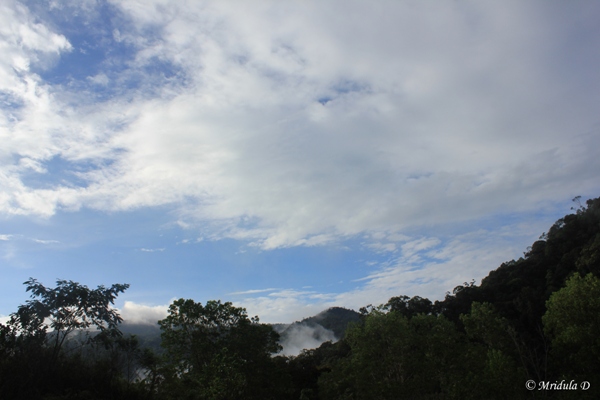 This was clicked from the moving car and I oohed and aahed at the light falling through bamboo groves. Wild orchids were growing by the roadside. And it made me quite content, just to view the scene while my team mate drove the car.