I took a vacation with Make My Trip, some of you who have been reading my blog might remember my trip to Andaman with them. I had booked it with Make My Trip India, the division that looks after the Indian holidays.
I have been more of a solo traveler and I was really skeptical of booking a group holiday. But one thing decided it, the reasonable cost of the package! I realized just one week before my trip that I could actually take a week off. I tried to do the airline booking but by then cheap flights were nowhere to be found! In fact at that point of time the independent air tickets were costing me more than 50% of the entire cost of the Make My Trip package. I distinctly remember that I searched on Air India and Air India Express as well but all the prices one week before were astronomical!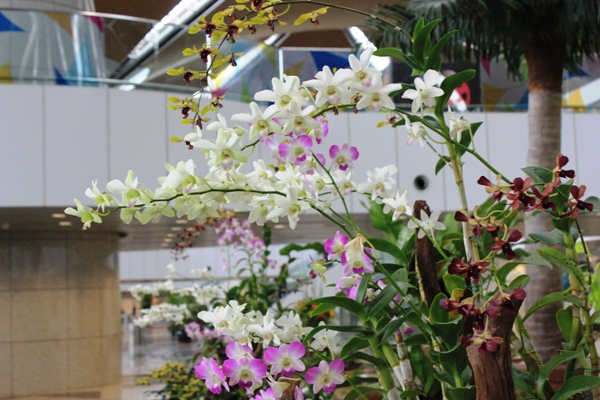 Flowers in an Airport
That is when I decided that I was going to go with Make My Trip. There were two of us, I did this trip with a friend and we had a gala time. I clearly remember telling the tour manager in the end in Havelock that I was very skeptical about the tour as I don't like group tours but the way you guys conducted it, I am willing to try it again.
I still remember Mustafa Fakhri who managed the tour at the Port Blair and he was an excellent guy. He made sure that the trip was memorable for us.
I also got to know that if you ask them they can customize some of the itineraries. My recommendation is that if you want to experience the beach more customize the existing one because it includes more time around Port Blair than Havelock. I am these days thinking about a vacation in Bhutan and wondering if I will have enough leaves to go by road or should I once again start searching on Make My Trip?