You would ask how difficult it could be to get back the same route you climbed up? The answer is not very difficult. But what happens with me is that I get fatigued when I go up and I get pain in my knees when I get down. I am better at handling fatigue than pain. So while coming down after say 4 hours I walk with a long face. The picture below was however taken at the start of our walk back at the hotel gate and I was all eager and ready to go.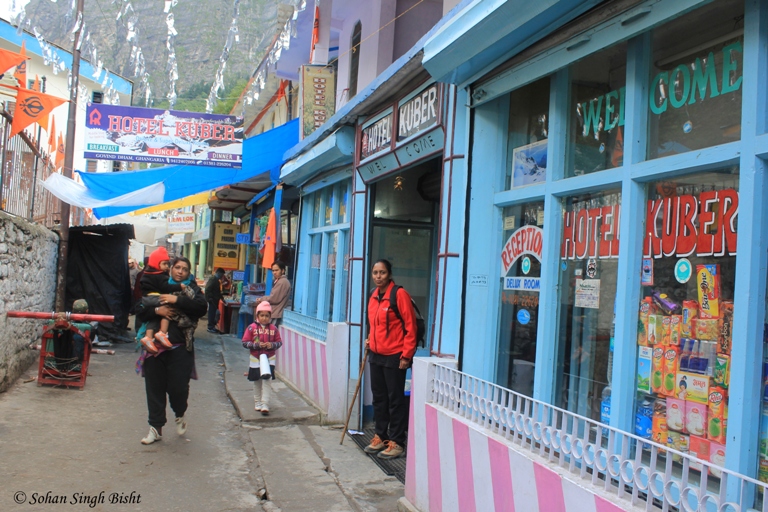 We started early because  later in the day the sun would be too strong. The path close to Govindghat is devoid of any tree cover as well. I walk down almost at the same pace as I go up so Sohan Singh ji once again had a lot of time to click pictures and then catch up with me! I put the 70-300mm lens and he went after the birds.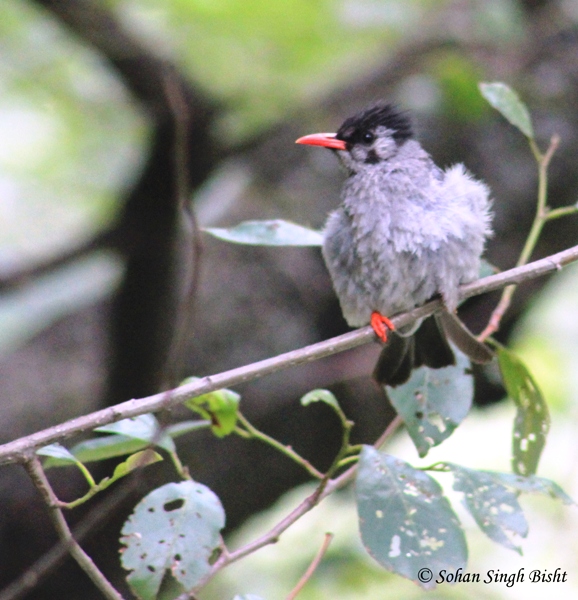 For the first bit I was happy, after all walking down hill doesn't require the same kind of effort. The day was a bit overcast as well which kept the heat down. The Ghangaria Govindghat helicopter service was in full flow we could see the chopper doing flight after flight. I was actually tempted to take the helicopter out just for the experience but I hesitated in the end.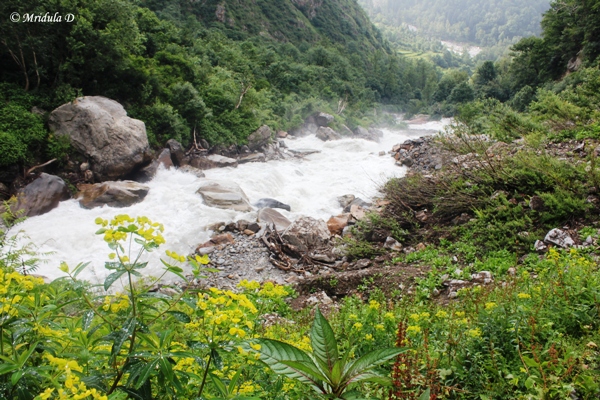 Seshadri has decent walking poles which I never use. On this trek Sohan Singh ji gave me a stick and asked me to try it out. When I protested he said, "use it for an hour and if you don't like it, leave it at a tea shop." I agreed and I used it till the end. On the next trek (unfortunately it can now happen only in the next summer break from my teaching) I am going to use the walking poles, it does help to reduce pressure on my knees.
We stopped after 4 hours to have a cup of tea. I once again ate a chocolate. By this time my knees were giving me hell and I was walking with a long face. Tea and chocolate helped me feel better but not for long. After an hour we were in the exposed area as well and the sun was out.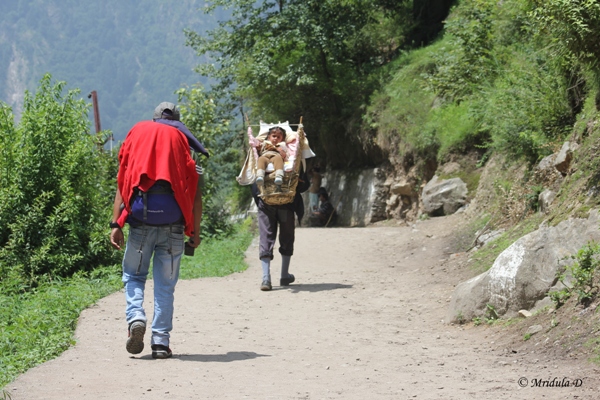 We stopped again at the same tea shop where while going up Sohn Singh ji had taken my ruck sack as I was finding it too heavy to carry. We had tea again. A little later Govindghat came into sight and I just gritted my teeth, ignored the knee pain and walked down. It was the same- flies all around and we only had a cup of tea deciding that we would take lunch at Joshimath. It took me 6 hours to get down whereas I had gone up in 7 hours.
The jeep ride to Josimath was through beautiful scenery and I stayed at the Hotel Kamet once again but this time in their more expensive rooms. This was the view from my room.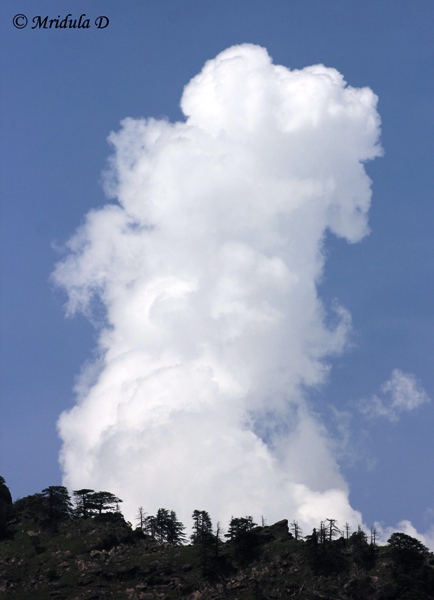 I was way too tired to do much but later in the evening I did walk around in the market. Sohan Singh ji had left earlier for his home and he was heading to the Valley again with another group in 2 days time! While walking in the market I loved this colorful roadside shop selling Rakhis.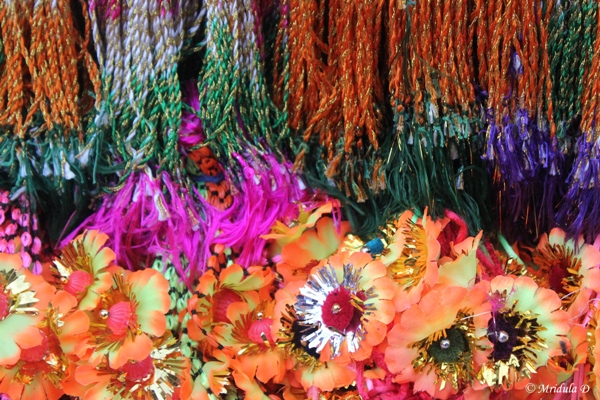 The next day at 5.00 am I was out at the bus stop. It was raining and I was standing on the steps of a shop. It was still pitch dark. There was not a soul around. Five minutes later a taxi diver came and stared his jeep. A Sadhu Baba walked through asking the jeep driver if the way would lead to Chamoli? When I saw the headlights of a vehicel, I stepped out and waved vigorously. The bus stopped and I hopped in. It was written Badrinath-Shrinagar (there is a Shrinagar in Uttarakhand too) so asked for a ticket to Shrinagar. Later I realized that the bus was going to Rishikesh irrespectice of whatever was wriiten and I needed just to buy another ticket and not actually change the bus. A little ahead the same Sadhu Baba also flagged the bus and got in and sat next to me!
Joshimath to Rishikesh is bone crunching 10 hours. I had front seat next to the driver and I slept through most of the time, the usual Avomine affect. From Rishikesh I took another bus to Haridwar and stayed close to the Railway Station as the next day I had a 6.20 train to catch. The hotel I stayed in is called Hotel Suvidha (means convenience) but I would prefer to call it Hotel Asuvidha (inconvenience). The only good part about it was the AC and the TV. After I protested a lot they changed the linen. They charge 1500 rupees for their shoddy room. The bathroom was a horror. But this was the sky at sunset from my room.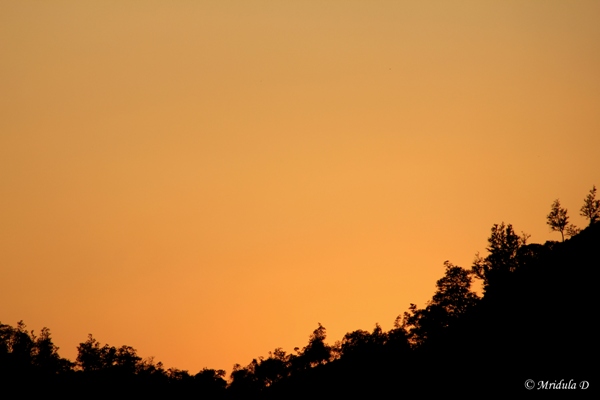 I didn't get a seat in the AC coach in the Jan Shatabdi and I sweated it out for 4-5 hours but it was still in a train. I had the middle seat but the people having window and the aisle were together so they gave me the aisle seat. When I arrived, the New Delhi Metro station was jam packed, thank got I have a metro card and the line for women to enter was also quite short. After a while I was home and Chhavi was telling everyone- now that mummy is back she will force me to eat food!
You can check out the entire trip account day wise from the following links-
Traveling to Rishikesh and Joshimath (Day 1 &2 of the trip)
Rest Day at Joshimath (Day 3 of the trip)
Trekking from Govinghat to Ghangaria (Day 4 of the trip, day 1 of the trek)
Trekking from Ghangaria to Valley of Flowers (Day 5 of the trip, Day 2 of the trek)
Trekking from Ghangaria to Hemkunt Sahib (Day 6 of the trip, day 3 of trekking)
PS. Please view my Antarctica Dream Page too.