I have already discussed my reaching Joshimath and my rest day at Joshimath. About time I started writing the trek account. To start the trek I needed to reach Govindghat fromJoshimath. Sohan Singh ji (my guide on this trek as well as Kuari Pass Trek) recommended the start time of 7.00 am. He said it takes one hour by jeep to reach Govind Ghat. There are two jeep stands at Joshimath. If you start walking towards Govind Ghat the jeeps go from the second one which is about a kilometer away from Kamet Hotel. We started without breakfast, the plan was to have it at Govindghat.
Fresh from my Everest Base Camp Trek I decided that I was going to carry my light rucksack. Till the jeep station it felt good. When I put it down to have parathas at a shop at Govindghat I readily picked it up again. When I got out in the sun after the break fast (the flies in July at Govindghat are seen to be believed) it was still fine. After 1 km it felt like 50 kilos. At about two kilometers I told Sohan Singh ji to give it to a porter or a horseman, I could not carry it anymore! He asked me to carry it a little further and then he said we would redistribute the load. I was left wondering what his plans were? Then came a barsati wali chai ki dukan (a tea shop largely made with polythene) and he redistributed the load. Which meant he took my bag, took out stuff from his and gave me an almost empty bag. He also took my camera and I gladly gave it to him and this is one exceptional trek where there are many pictures of mine!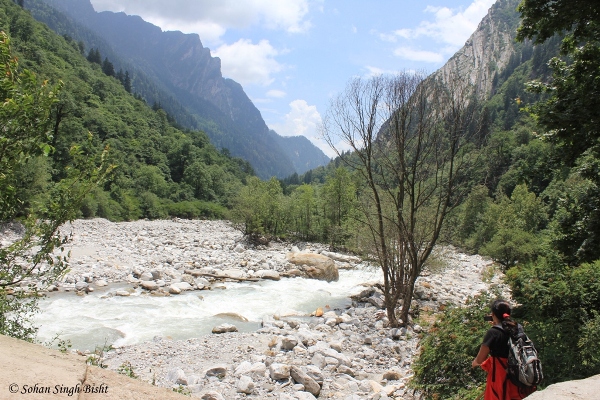 The good bit on this trek is that there are markers. That means you know you have walked 2 kilometers and you need to walk 11 more. The bad bit is that there are markers. Now if they were not there I could think I walked 8 kilometers when I really walked only 2. No such luck here.
The path winds around the River Lakshman Ganga for most of the way. It is a good path, that in my dictionary means it does not go uphill all the way. There are short sections that are flat and some even downhill. Most of the way is uphill but gradually uphill. A lot of palkis, pitthus and horses ply on the way.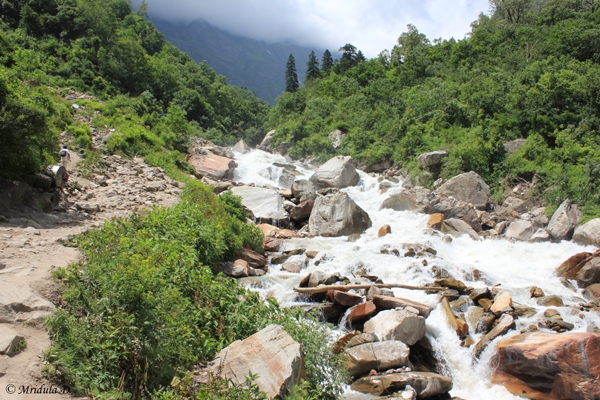 This is a trek where a lot of people are pilgrims to Hemkunt Sahib rather than trekkers and it makes for an interesting mix. As I walk at a certain pace (OK slow pace) throughout I belong to the group roughly doing the same pace. It was interesting to see that a little later, say 4-5 km into the trek, some of them decided to take horses. The horsemen who are without a passenger or load would keep asking you all the time if you need a horse.
One group of young guys asked Sohan Sing ji if he was Chinese and he played along saying yes, talking all the while in Hindi! The good bit about the small tea shops on the way is that we frequently stopped for tea and had parathas for lunch.
Gradually trudging for 7 hours we arrived at Ghangaria. The tents you see in the picture belongs to Sarovar properties but I didn't stay there.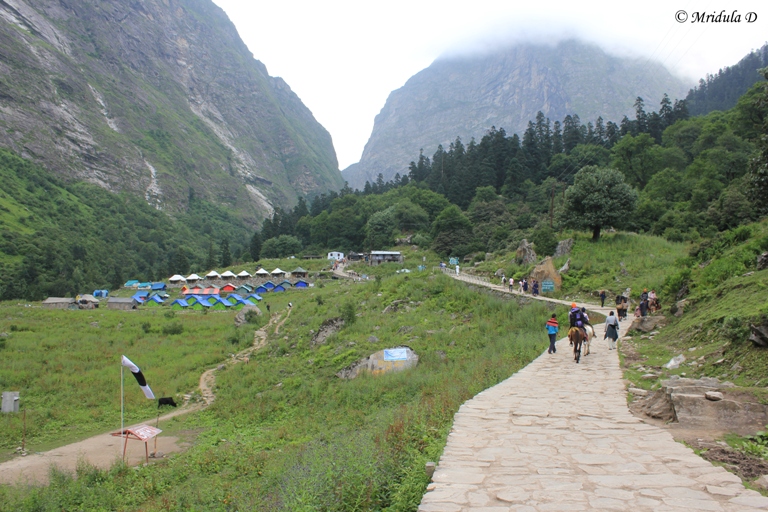 Sohan Singh ji's logic was that we should stay in the middle of Ghangaria as the horses stay at the either ends and that stinks. We stayed at Hotel Kuber right in front of the Gurudwara and it was a decent place. The food was good too.
It took me 7 hours to complete the stretch from Govindghat to Ghangaria along with a few stops for tea and food.
There is a helicopter service from Govindghat to Ghangaria which operates when the weather permits. During my stay it was operational. I was tempted to take it on my way back but I didn't. It surprisingly still bears the name of Air Deccan.
Ghangaria is at the height of 3049 meters (10000 or 10003 feet to be precise feet) and I was fine, I didn't feel any discomfort. Next day we were heading to the Valley of Flowers. The story continues …
You can check out the entire trip account day wise from the following links-
Traveling to Rishikesh and Joshimath (Day 1 &2 of the trip)
Rest Day at Joshimath (Day 3 of the trip)
Trekking from Ghangaria to Valley of Flowers (Day 5 of the trip, Day 2 of the trek)
Trekking from Ghangaria to Hemkunt Sahib (Day 6 of the trip, day 3 of trekking)
Trekking from Ghangaria to Govindghat (Day 7 of the trip, day 4 of trekking)
P.S. Check out my Antarctica Dream page too.