I got the Malaysian visa (multiple entry, one year) on Friday afternoon. I have to tell you the visa tale as well as about the conference. The conference is the 1 Malaysian International Tourism Bloggers Conference & Awards and it will be inaugurated by the honorable tourism minister of Malaysia YB Dato' Sri Dr. Ng Yen Yen. The conference venue is Seri Pacific Hotel. I am so much looking forward to the conference and my first visit to Malaysia. I have three engagements at the conference, one on day 1 and two on day 2.
As I have no pictures of Malaysia yet I have to tell you this tale with the visa and other related pictures. I applied for the visa on Monday morning. I could have applied for it on Friday afternoon but that would have meant cancelling an engagement at work. I decided not to and then regretted it for the whole week! But then all is well that ends well.
A lot agents of the visa Gods sit at this building at Nehru Place in Delhi, the brown one you see below in the foreground. It is called International Trade Tower.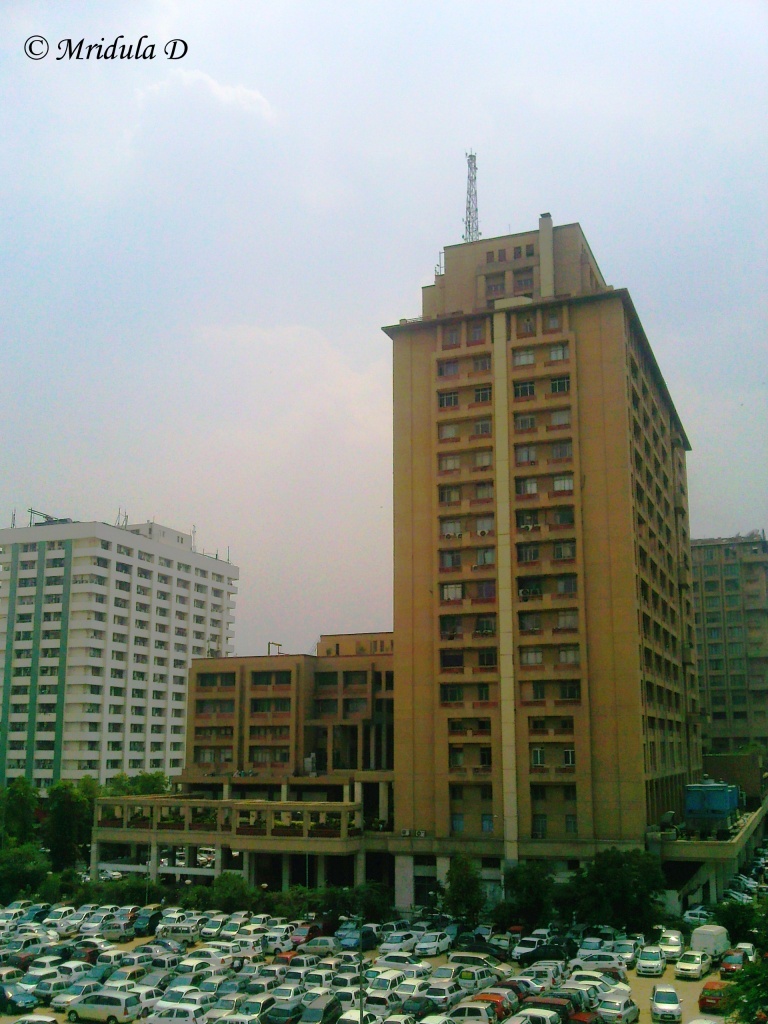 It is well connected by the Delhi Metro. So going there is not a pain. On Monday I deposited my visa at 8.00 am, in fact they were still cleaning the place when I gave them my application. The person handling my account was a pleasant gentleman and he said that even though he could not promise anything, I could expect my visa by Friday afternoon. How right he was!
I would have tracked my visa at least 50 times per day from Monday to Friday but my number of tries made no difference to the speed of its arrival! When I finally got it, I deleted the tracking page from my bookmarks with a glee!
Fast forward to Friday. I had taken a day off from work because if I went there it would have been very difficult to reach Nehru Place. I told them I am taking the day off in anticipation of the visa. It proved to be a wise decision. I usually get up quite late if I don't have to go work but on this Friday I was up by 8.00 am and yes that is early for me on a off day. The visa status was still stuck at the same note, basically no visa for me by 8.00 am, no note that I could pick it up later in the day.
I wrote a note to the event organizers (they have all my sympathies they would be dealing with so many anxious people like me and such patience they have!) saying if I do not get the visa by evening I would cancel the tickets. They wrote back saying I should not do that and I should call the VFS number once again and inquire, they are being told that I would get the visa.
When I called the lady said it is still under process. So I asked her if it was slated for an afternoon delivery? She said yes but I should check again at 2.00 pm! Well I decided to go anyway to Nehru Place because if I started after 2.00 pm I would never reach by 4.00 pm which is the closing time for picking up the passports.
Then I had pressing matters to attend. My daughter had to attend a birthday party in the evening and I had to buy a gift for her to take to the party. So I went to the local market.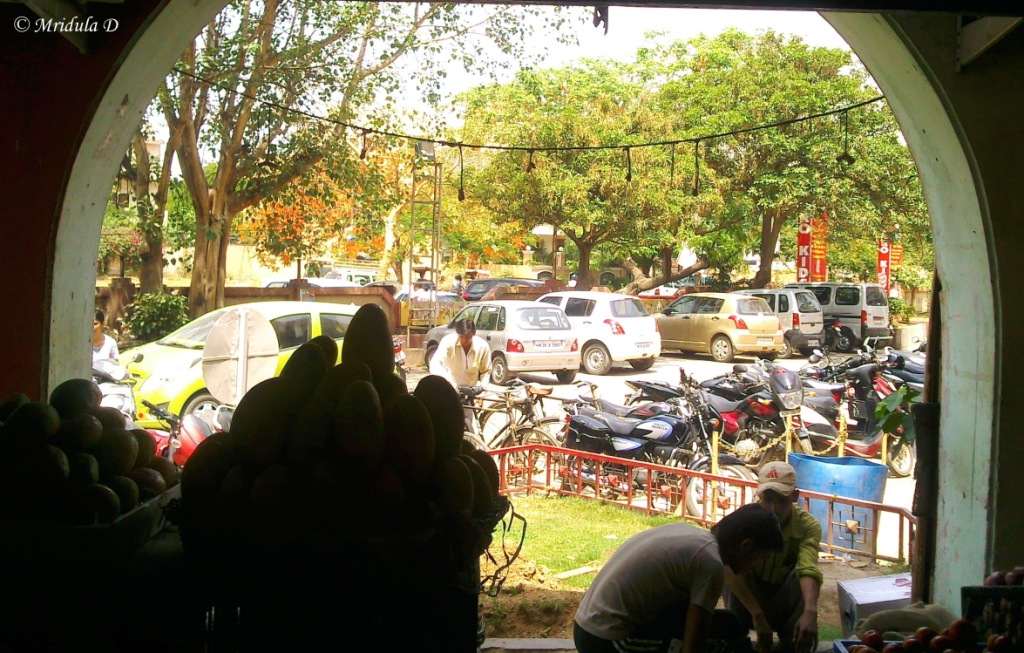 I bought the present, got it gift wrapped and then headed to the friendly fruit and vegetable vendor. I had to bring a coconut home to so I asked him here they are stored. I went in to pick one and my phone rang.
It was from Malaysia, from the event organizers and they said they had good news for me. My visa was ready for collection. I thanked them a lot, kept the phone in my pocket and then turned and froze. This is what was staring at me.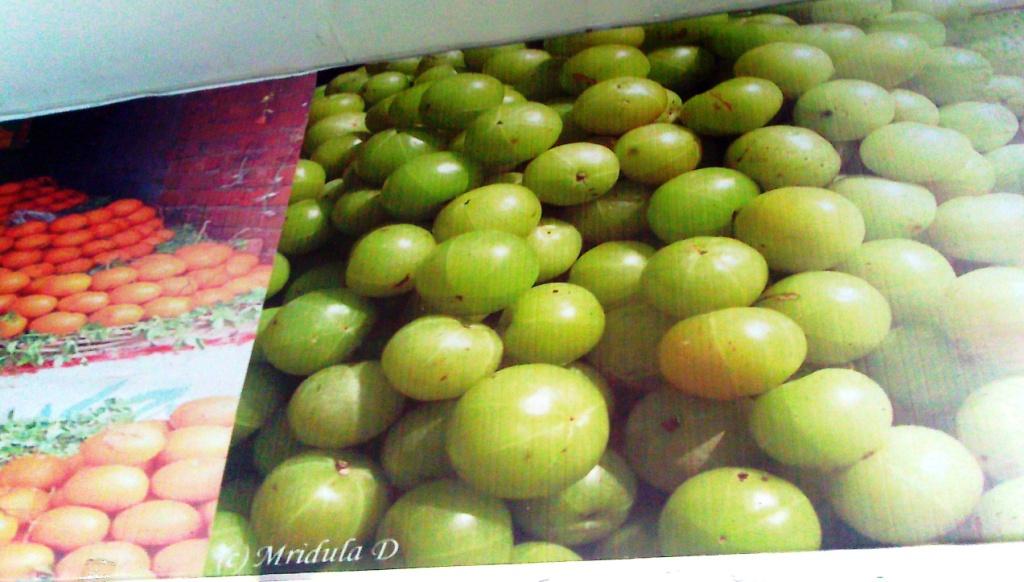 Enlarge the image above. These were the posters in the vegetable shop. You can see the poster of the Indian Gooseberry was carrying a copyright sign and it was in my name. This copyright notice was on the poster itself! Well it is my picture as well (scroll down to the fourth picture in my post). I asked the vendor where did he got the poster from and that it was name on the picture! He was a bit subdued and said 'Azadpur Mandi.' I reassured him he did nothing wrong, he just bought a poster! As for me I paid him and headed home and then to Nehru Place again.
After reaching the Tower (which takes 2 hours one way from my place) I got the passport back from the VFS in a few minutes with that nice visa stamped on it. On the way back I clicked the Lotus Temple which you can view both from the International Trade Towers and Nehru Place Metro as well.
About that picture at the vegetable shop, well what can I say? I have learnt my lesson and I now post only low res non-printable pictures on this blog. Yet, there are 2-3 years worth of high res pictures on this blog.