Do you know the name of the international airport at Liberville, yes you read it right Liberville. And it is not a fictional place in Farmville but the capital of Gabon. Now you will ask me where is Gabon. I would say play the Lufthansa Network Challenge and you will know it all. I played the Lufthansa Network Challenge through the evening! Not only I now know Liberville I also know something about Turkmenistan, Adis Ababa and Khartoum. I even got the fleeting distinction of being on the leaderboard for today with 293000 points. Guess what position it fetched me? A lowly 21 out of 25! But how I earned it after playing for hours.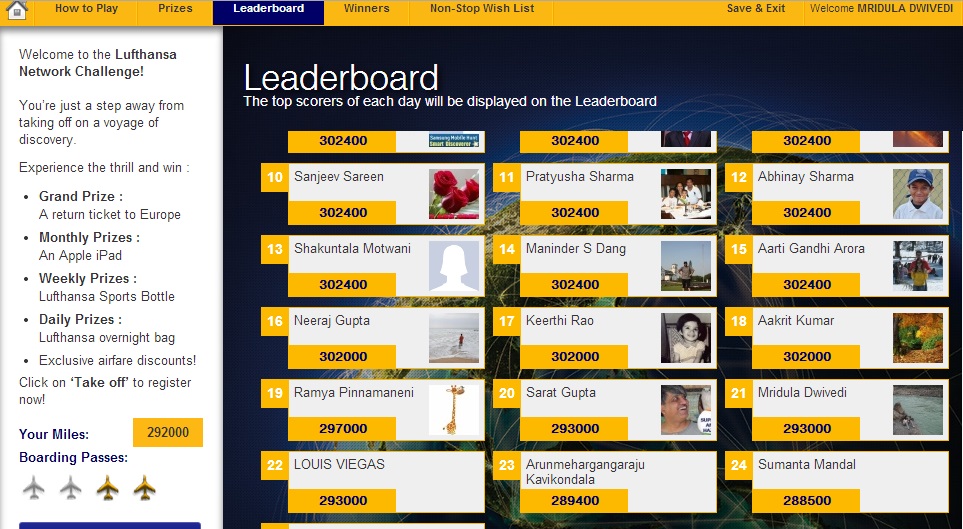 The grand prize of the Lufthansa Network Challenge is a return ticket to Europe, with a monthly prize of an iPad. There are weekly and daily prizes too but then we are going to set our eyes high, my readers? If you like the Lufthansa India Facebook Page you can see the network challenge as their cover photo. Click on it and follow the link, it will surely provide you an evening worth of entertainment or frustration! But in either case fun is guaranteed. So what did I do for the whole evening today? I perfected my strategies that took me too the score of 293000. See I took that screenshot so that you would believe me!
The Game: You get to answer 10 questions for 4 zones, Asia, Africa (where I got chucked out most) Europe and America (where I reached only once or twice). You get one minute to answer each question. There are 10 questions in  each zone and a bonus question at the end. If you answer that correctly you would double your miles but if you missed your score will happily drop to zero. I managed to get a zero with around 190000 yesterday night! I know how it feels. The last person on the leaderboard usually scores in excess of 280000 points! You get 4 boarding passes and one gets used for each incorrect answer. When all of them are used (and if you have not reached the end of 4th zone by then) the game ends there. Beyond this the game is self explanatory. It is anyway easier to understand by playing than reading my post so you can skip to the game now. And if I can figure it out anyone can. I am no game,r even my six year old daughter is better than me at Temple Run!
The Experience: Of course minute is quite enough to Google out anything (at least when I am using my home connection) but people who made the game also know this! They became tricksy like the hobbits. So many a times the question is in the form of a picture. Say it may ask you to identify a monument saying it is the oldest mosque in a particular country. Now try using Google for that! I kept a clean tab in chrome ready. I would copy the relevant text from the question but even then I exhausted my one minute for some questions. The more I played the better I became. Some questions get repeated. I got the Night Safari at Singapore as my bonus question twice and my joy knew no bounds for getting this question which was simple for me. I found the questions related to the flight frequency of two Lufthansa Destination most tricky. Thanks to playing the game I now know that Lufthansa has daily direct flights to Frankfurt both from Delhi and Mumbai. My rule of thumb was to pick a daily flight frequency if the question was about two important cities and try my luck with a lesser frequency if it was a smaller city. I think I used most of my boarding passes on these questions. It was fun to play the game even though I rarely get into gaming. The appeal for me were the sights of far away nations, the strange names and the ease of answering questions related to the countries I have visited. I am zilch at Geography and yet I discover that I am probably above average at using Google. My score is a tribute to Google and my way of using it!
Who Will Like It? The gamer in you is going to like it a lot, any traveler is going to like it a lot. If you think you are good at searching this could be a reality check for you. It took me so much time to reach to the leaderboard. Whoever wins the game overall is surely going to earn it! I could play it uninterrupted today because my daughter went to sleep early. With her around, fast and furious Googling is not going to be possible so I am not sure when I will pick it up next. But I think I will it at least one more try whenever my daughter allows me. I would say go check it out, give it a try and do tell me your score. If you want to try and win one of the prizes too my best wishes. But even otherwise it is a fun game, even for a non-gamer like me!
Make a Wish: If you manage to clear all the four zones do remember tomake a wish. At the end of the contest one wish may just come true. Mine is to go hike in New Zealand.