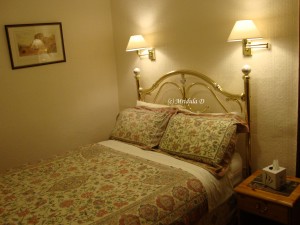 Last year I spent a week at Lancaster, UK. We initially stayed at the Best Western Royal Kings Arm (that is another place I have to write about) and then as we had goofed on reservations we shifted to The Shakespeare Inn for a day.  That also happened to be my free day. So the plan was to dump my luggage and spend the day outside. I am so glad that we goofed up and I got to stay at a bed and breakfast.
I have a very bad sense of direction and I like to roam around a city as much as possible. So I followed the directions on the reservation papers the night before and I knew where the Inn was located. I got up early on the Saturday and had a leisurely breakfast. Soon it was time to head to the Shakespeare Inn. After a short walk I was there and rang the bell. Sally came out and greeted me warmly. She immediately asked if I would like to have some tea or coffee but I told her I wanted to go out. She then asked when could she expect me later in the day and I told her, "in the evening." All this was a little surprising for me because I am quite used to dropping my key in a hotel and coming and going as I please, no questions asked. It was strange and so pleasant to see the concern on part of my hostess.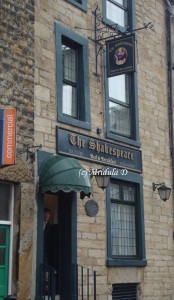 I stayed the whole day out. It was a crisp and cold day. And I came back really really late. Most of the day was spent walking from Lancaster to Morecambe. After sundown at 4.00 pm it got really cold and around 7.00 pm I decided to turn in. When I got in, Sally told me, "Now I never expected you would be this late, come I will show you your room." While showing the heating she asked, "Are you cold?" And then held my hands and exclaimed, "Yes of course you are cold. The heating at the moment is neither here nor there but you can crank it up."
Then she pointed out the tea supply to me I immediately said, "I will try this out." And she replied, "No leave it for the morning, I will make some for you." A little later I had a hot pot of tea waiting for me with some cookies!
The room is quite comfortable and the breakfast elaborate. I told Sally I would like to write about her place but never thought it would take so long. I also remember how she lugged my suitcase up the stairs in spite of my numerous protests that I was quite capable of doing it myself. She laughed, "I am quite used to it." I was apologetic saying, "It was not this heavy when I came, but it is full of chocolate now."
I asked her how she got into running the Shakespeare Inn? She said, "All that you see, the credit goes to the previous owner, when they got out, we came in and we just continued doing what they did. We have a home by the sea where we plan to retire but then I think we can do this for a few more years." I hope whoever takes it over, does more of the same, the place has been an Inn since 1872!
I think if I get an opportunity I would try another bed and breakfast. The Shakespeare Inn is also listed at the Official Visit Britain Site.
* I sometimes review hotels because I get invited to their place in return for blogging but this post is not a part of any such arrangement. I wrote it because I wanted to write it.