When I was at Putrajaya the last time I didn't went on a cruise. Last time I also didn't use a tripod to click pictures. And guess what? This time I realized that my tripod is broken and I was taking a night cruise at Putrajaya. First I sulked, some more because I was very tired and had a bad cold (I am much better now) and didn't go on the upper deck of the cruise. But eventually I decided to check it out.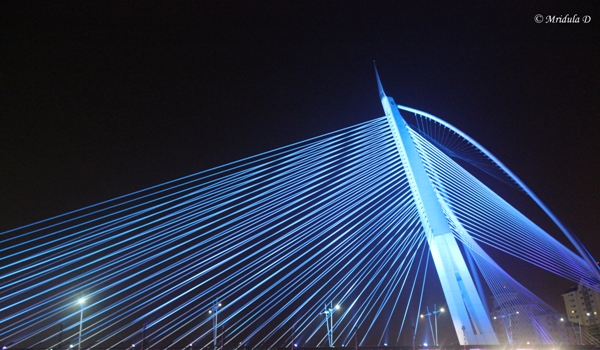 I was initially hesitant to click pictures thinking they will all come out blurry but Nikhil (another participant from India who is with Overdrive) was happily clicking away so I too decided to give it a try! And I am glad I did. So for a second time I was at Putrajaya at night and without a tripod! But this time I do have some decent pictures.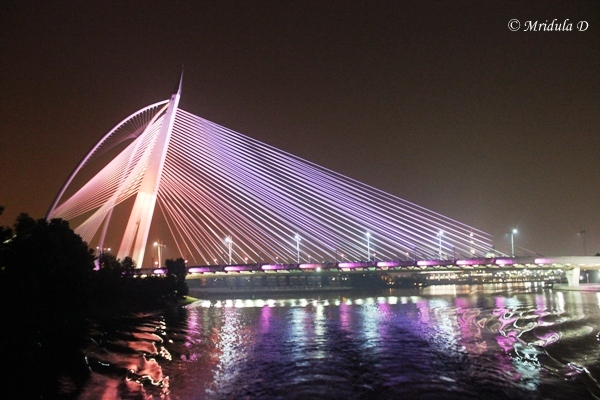 Here is another shot of the Seri Wawasan bridge, the lights keep changing color. There are eight bridges in Putrajaya and I identified the names from the website Kiat. Putrajaya is the administrative capital of Malaysia. It is a young city which became functional in the year 1995 so it has been in existence for 17 years. It was built from scratch and the idea was to build it based on the architecture of the various parts of the globe. So you can see the influence of Turkey, Iran, Iraq, India, Dubai and many other places.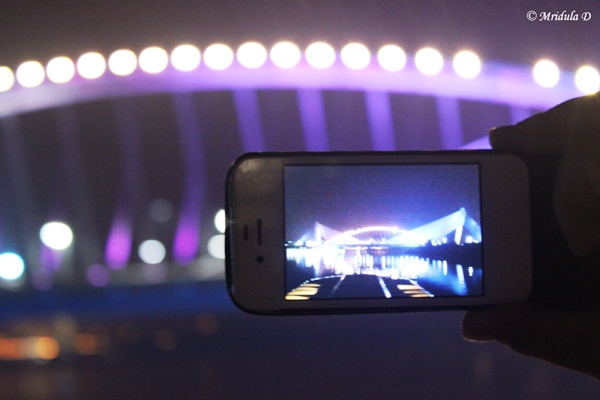 The gentleman with this cell phone managed to keep it away before I could click a picture, so I requested him to take it out again and then I clicked it. This is the Seri Saujana Bridge.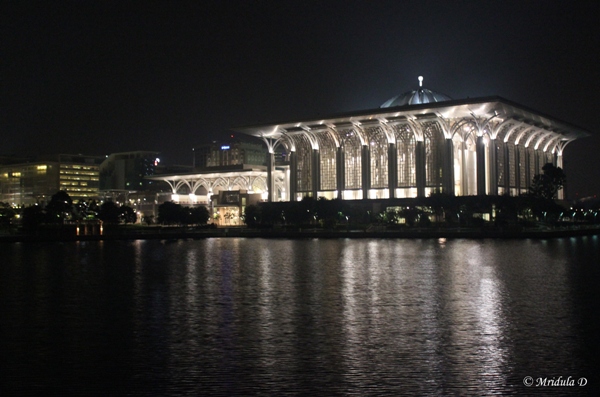 On the way we passed the corporation office too and for sure it makes for a very pretty picture.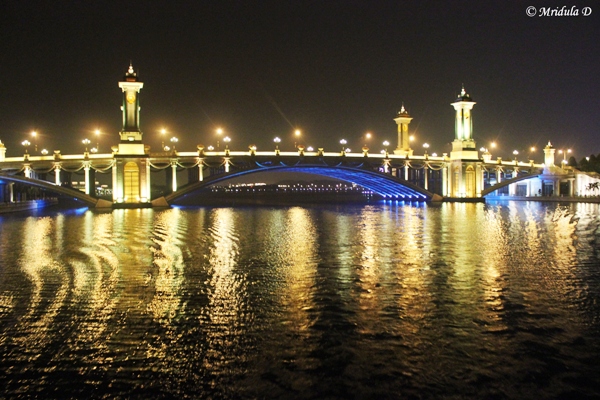 And this is the Seri Gemilang Bridge and to me it was one of the most beautiful bridge I ever saw. I wish I could take a picture of it during the day with a nice sky.
So these are some pictures from my night cruise at Putrajaya. Do stay tuned for more, I hope I will have net access at other places too. Tomorrow we leave Putrajaya and head out to other parts of Malaysia.