After I saw the lathi charge on the protesters near Raisana Hill I decided I would go. But it was evening before I could actually get out of the house. At the time I went the protests were peaceful and the police just standing guard. But I have never seen so many policemen and women at one place in my life before. Not even at the Janlokpal protests too.
There were some incidents which I never thought would happen in Delhi. I took an auto from Patel Chowk to India Gate. The auto guy asked for 30 rupees which I readily agreed to. He told he was suffering badly due to the closed roads. When it came to giving me back the change for the 100 rupees he willingly gave me back 75. A Delhi auto guy charging less than what he quoted me initially? I never thought I would see that day.
In the evening the protests were peaceful. I could easily walk from India Gate to Raisana Hill right up to the barrier and put my camera right up to the nose of the policemen.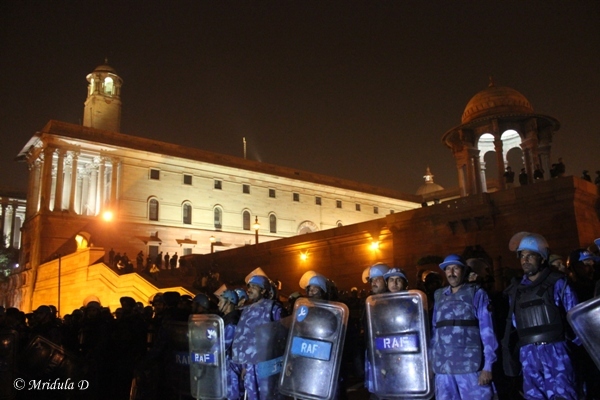 However the broken pieces of glass show that the day had been tense. While I was walking around I saw a policeman say to a tea seller, 'Ae chai pila' I just stood there using my mobile phone and the policeman offered money to the tea seller. I was distracted by other people moving closer and I do not know if the tea seller accepted the money or not.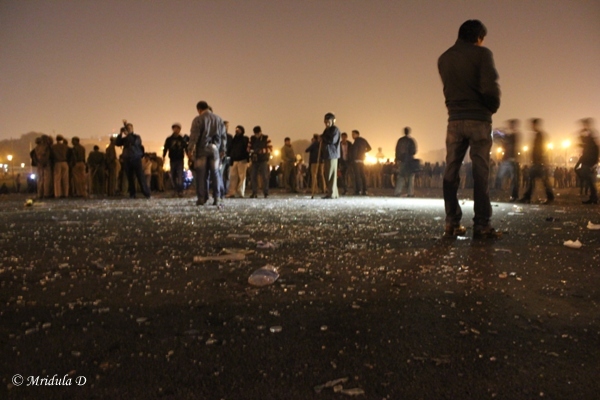 I talked to a few policemen and I asked them why was there a lathi charge during the day? He said, "The numbers were really huge during the day. We expect the same thing tomorrow." Clearly I was there at a more peaceful time.
This lady in the picture above asked me if the girl was dead. I told her the rumors keep flying but I have not heard anything officially yet.
The policemen and the TV crew had the most resigned look as they knew they were in for a long night. Apart from a few student groups people largely walked in small groups of friends, couples, neighbors etc. When a large group would walk in the police would start moving forward. I saw one group making a human chain keeping them in between the police and their friends. The police stood back.
I will repeat that I went out in the evening when things were more peaceful. I am sure during the day when the lathi charge and everything else happened it would have been a different place.
When I came back to the nearest metro station, Central Secretariat, I stood at the card counter and two guys moved away saying please use the counter we were standing just like that.
If only we could continue on this path!