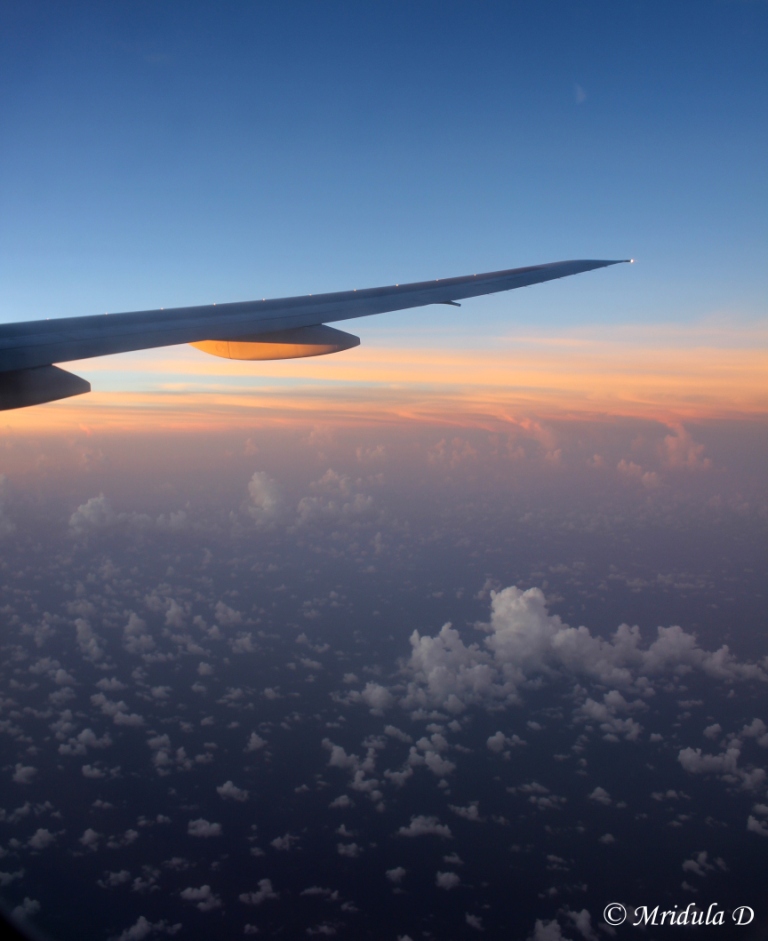 For today's Skywatch I present two dusk pictures that I clicked yesterday while coming back from Kuala Lumpur to Delhi. I often try to get a window seat on the planes so that I can click pictures. I try to guess which side A or K (or whatever is the window configuration for that particular plane) would present a better view. And I often get it wrong. For example sun was setting on the A side while I had a K seat.
Then there was turbulence. Yesterday there were very high winds over Delhi and a while before landing our Boeing 777 was tossed around like a 2X2 turbo prop! Thankfully it lasted for a short while. But the two men behind my seat started saying we had it and this plane was going down, though they were laughing all along. It wasn't too scary but I had never experienced such a big plane being thrown around which such ferocity.
And finally I an heading to Nepal tomorrow to do my Everest Base Camp trek. I was o T3 (the international airport in Delhi) yesterday and I am going to be there tomorrow. But I am realizing that I like my trips to be a little more spaced out. As of now my head is still stuck in Malaysia, I am physically in Delhi and I have to plan for going to Nepal. It is all so confusing. But then after all it is time to have tryst with the Everest Base Camp and I am looking forward to it. I sincerely hope I will be able to haul myself all the way up there.