For today's skywatch I present two rainy day pictures from Malaysia. Of late I have developed a penchant to click pictures through car/bus windows when it is raining outside. That way sometimes I get interesting pictures!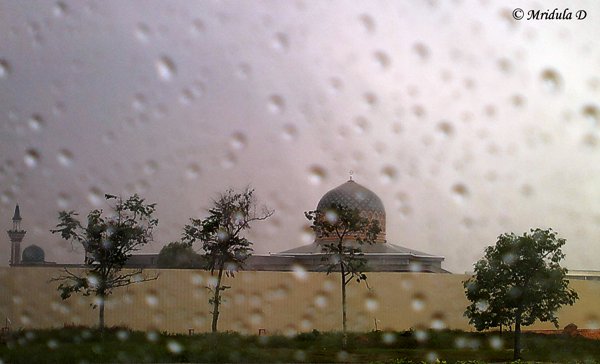 If you search for Sultan Abdul Samad Mosque, Sepang, Malaysia on the net, you will find that it is a well photographed mosque. It is actually on the way from Kuala Lumpur International Airport to Kuala Lumpur City. You can see it from the highway and I am sure like me, a lot of tourists would react by clicking a picture and sharing it on the net! This picture was clicked on our way to the hotel in Putrajaya. I had clicked the mosque on my previous visit to Kuala Lumpur as well but I find this picture more interesting because of the raindrops.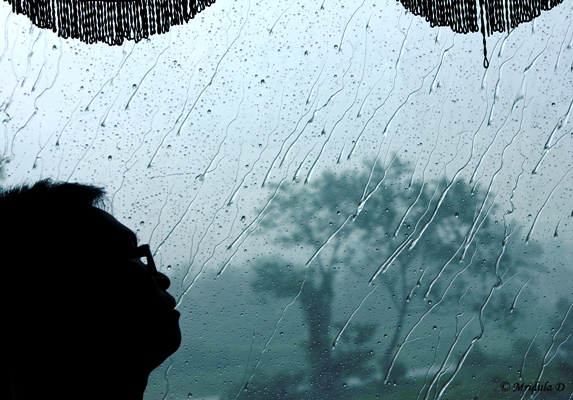 This picture also has a Sepang connection. We were traveling to the Sepang F1 International Circuit when I spotted rain and a participant of the Malaysia Tourism Hunt 2012 by the window. And I thought they made a pretty picture!
I otherwise do not like rainy days too much if I am looking to shoot pictures as the gery skies make it so difficult to take any decent pictures. But I now realize that shooting through the window of a vehicle with raindrops on it sometimes can save the day!
For more skies from around the world please visit the Skywatch Page.