Last week I spent two nights at Novotel, Pune (on invitation). The more I interact with hotels, the more I realize that new ones go for a soft launch initially. That way they get a lot of feedback. I was there for the formal launch of Novotel Pune. But without further delay, here is my room experience. I had a standard room at Novotel, Pune.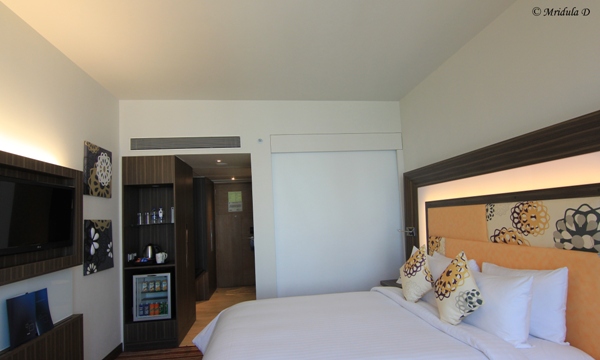 I prefer to click a hotel room as soon as I enter, because within no time I mess it up! So here is how my room looked when I entered it. The room was well lit, major light switches were next to the bed. The bed was comfortable, and I had good sleep on both the nights. I guess the AC is centrally controlled and ran at 23 degrees most of the time.
As you can see the room has a wall TV, a mini bar, tea kettle and two half liters (or smaller) complimentary water. The tea bags are Twinnings. The room had a wardrobe space and a safe too. Even though Novotel is a mid segment hotel worldwide they are positioning it as an upscale property in India. You can see a video of the same room here. I searched for room rates and right now I could get the same room for two nights at 12457 Indian rupees right now.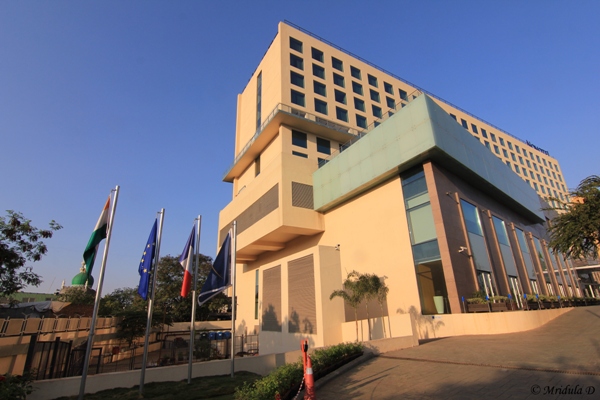 The bathroom was clean and functional. It has a shower that has good pressure and plenty of hot water. There is no bathtub but for the price I won't expect it as well. Two things surprised me though, there was no body lotion in the bathroom. This I can still try to understand, this could be a Novotel policy for a standard room. But the shampoo and shower gel bottles are difficult to open with wet hands, for me the caps were too tight.
Overall, a good room with no major glitches. The airport is about 10 minutes drive. The hotel will appeal to the commercial first.  But they have a xBox in the lobby and I saw parents struggling to drag their children away from that area.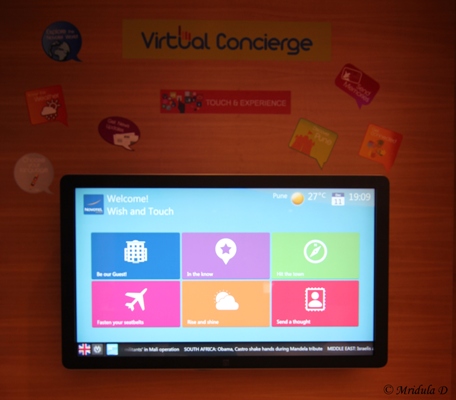 There was a virtual concierge in the lobby and I did try to explore it. I particularly used their send a message feature. It allows you to send a Tweet, email or Facebook update. After sending the message if you go away, it automatically logs you out. Novotel Pune is situated to a busy highway. However, the rooms have excellent sound proofing. The rooms are absolutely quiet. Overall, I found Novotel Pune an efficient hotel.
I was invited by Novotel Pune to attend their launch and stay with them.