I am not a sunrise person, there was a time when I could blissfully sleep through all the sunrises in the world. But that was before I started playing 'photographer.' I now try to get up at sunrise as I know it often makes for beautiful pictures. Doing so in Durban was not too difficult anyway as they are three and a half hours behind us. So getting up at six there meant 9.30 India time which is not bad at all.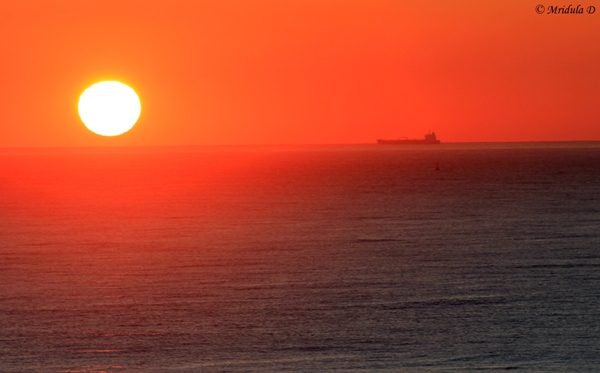 Sunrise from my Hotel Window, at Durban, South Africa
I was staying at Southern Sun Elangani and what an incredible view I had! And before you start wondering how come I went to such a far away place from India, I was invited by South Africa Tourism. And since I came back (this Sunday) I have been dreaming of the place and of ways to go back again!
I also remember very clearly that this was the day of the CEO Breakfast at INDABA 20313 and we had a very early start. So the picture was clicked in extreme hurry, as I did not want to be late and make others wait for me! This was also clicked handheld with a 75-300 zoom. I forgot the tripod at home and I wanted to kick myself for it. But on this day there was anyway no time to set up a tripod. Some excuse I say!
PS. This post is part of Sky Watch Friday, check it out.