The weekend protester that I am decided to go India gate today again. After all from tomorrow I will earn my daily bread! I was tweeting and knew that @db_DelAplha was also tweeting from there. Imagine my surprise that he turned out to be my friend from college and in all that crowd I met him as soon as I entered! We were together from the entire time.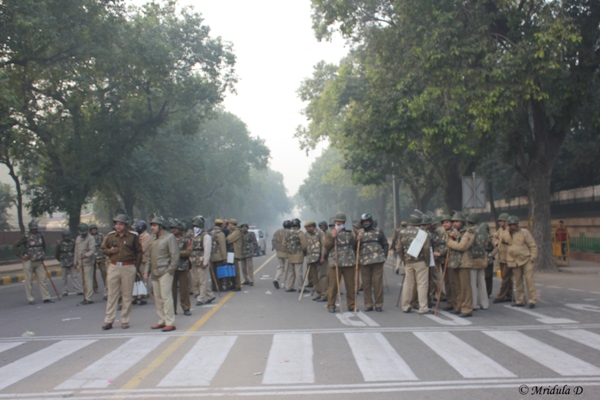 As I walked in I saw these police men and like yesterday I could point my camera at them. They didn't stop me. I started walking in to India Gate. Many metro stations were closed but Rajiv Chowk was open.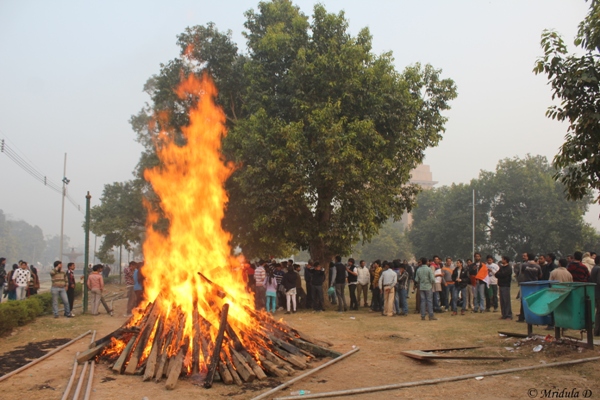 As soon as I walked a bit I saw this fire. There were three such fires going on and people chased away a fire brigade too. But these were small bonfires. And then a girl asked me for my mobile phone. While I gave to her my friend walked in and suddenly I realized the person I was exchanging tweets with I knew him too since a long time back. Imagine two tweeting people meeting in that crowd! What a coincidence.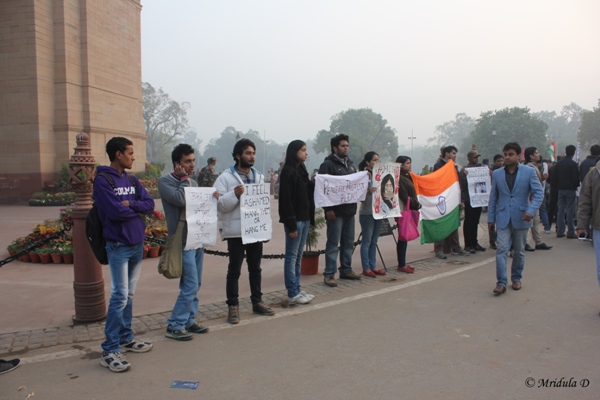 As my friend had been there all day he said India Gate and its vicinity was an informal safe area and we stayed there for a while. I also saw a lot of people among the crowd telling others not to restore to violence otherwise the police will charge them. At times they were able to put some sense through.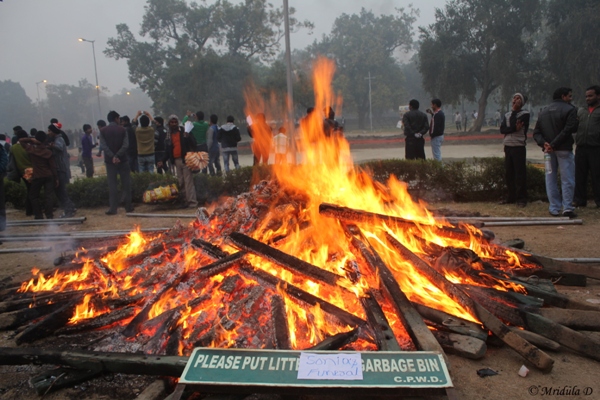 Near this fire someone posted a notice later!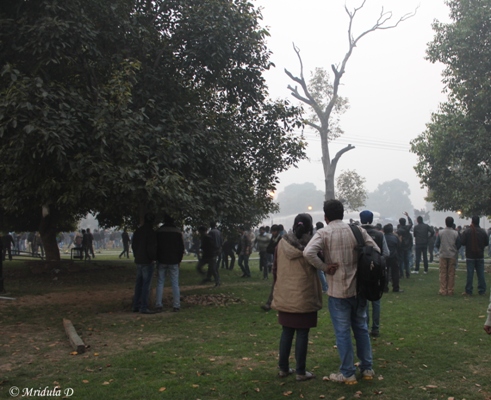 A little at a little distance towards Raisana Hill real action was. We went a little closer. And suddenly the water canons started and you can see that at a distance people were just standing. Water canons were at a distance. I was standing and without thinking too much I clicked a few pictures.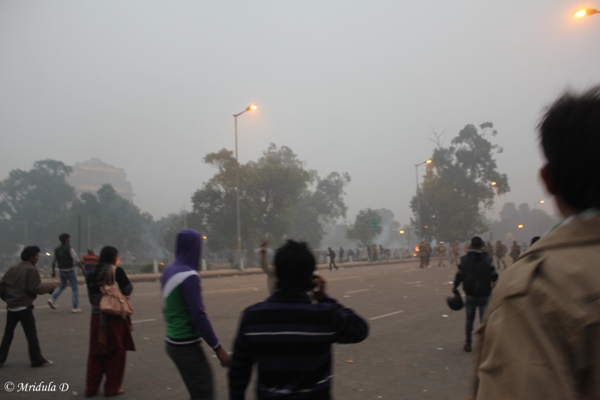 As soon as the water canons started people closer to the pitched scene started running in all directions. Within two minutes this was the scene, almost empty. Why lathi charge all the way then? My friend told me to say we were press if a policeman came near. We ran for a short distance and then we stood in a corner. Police came and an unknown gentleman in front of me showed his camera and said press. I said the same pointing to my camera. The police asked us to sit down.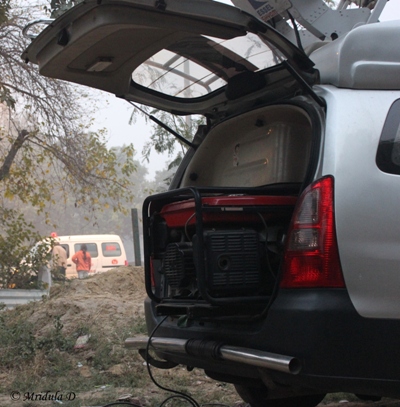 Then the police came and asked the vendors to move and started cracking its lathi. So we went near this media van. By now tear gases were going all around. I don't know how many shells I heard exploding. A father with his two year old was sitting with us. I had a duppata and a water bottle and it helps a lot in tear gas situation. Whoever had water passed it around to others. Soon others joined us and we must have been 10 strong all sitting down. In that chaos a little while later we realized that the father-kid had moved, there were a lot of ambulance I hope they got one. All this while I had no sense to use my camera. I did just one tweet. I was holding the duppata to my eye most of the time.
Then a group of policemen and policewomen came and asked us to move. We said where should we go as there is too much chaos. They said we will escort us out. One lady police also remaked, "aap bhi tou unhi logon ke sath baithte hain" (You also sit with them). I wonder who is this them?
The policeman below escorted us out. We shook hands with this policeman saying thank you.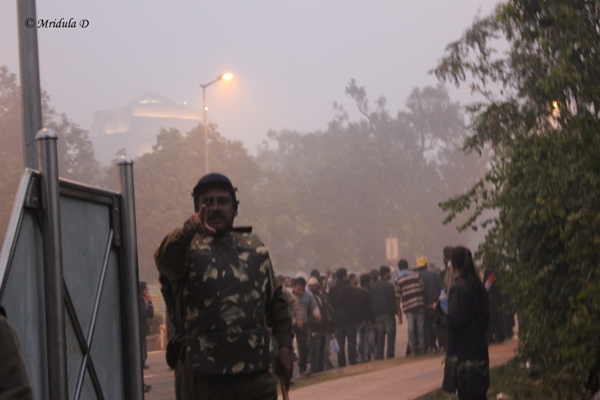 I had seen someone picking up a stone and throw it back. We told him not to do that. But I wonder if I got a lathi myself would I not be tempted to throw a stone back? Not sure as I never got a lathi, just some tear gas.
I do not know what happened upfront when they started using water canon but I saw that the area was deserted within two minutes. I was close to the scene though not upfront. I am not that brave. The police continued to charge and use tear gas.
While walking out to get an auto, a little away from the scene, I told a policeman at the roundabout that I was a college teacher and you used tear gas at me! He lowered his eyes!
All my sympathies to people who got directly caught in the lathi charge and tear gas. I was luckier this time, I only got the tear gas.
But I am the weekend protester I go back to work tomorrow.