I have to admit when Gajendra ji suggested the village breakfast I was a bit skeptical. But I kept my thoughts to myself and agreed to go ahead with their plans. Later in the day we were going to visit the Rawli Tatgarh Sanctuary as well.
We started towards the village at 8.30 am and for me it was a short walk. Soon I was sitting on a charpoy under a tree with the curious kids of the household hovering around me. I saw a few parrots on the trees nearby and we all went to click pictures. Then they called me to try my hand at churning buttermilk which I did.
Then the expert took over and let me click her picture too. Soon after I was asked to sit down and eat my breakfast. They had cooked it on the wood fired chulha.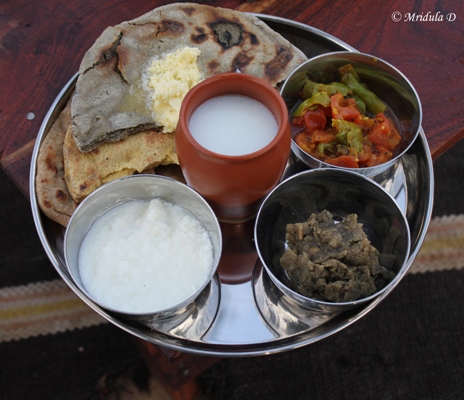 What you see in the picture above was my early morning breakfast! This much food would actually last me for a few days! And look at the amount of butter! I usually eat this much butter in a month! After I clicked the pictures I asked them to reduce the amount. They cut the rotis into half. So I had half of bajra, wheat and besan ki roti to finish. They didn't even touch the butter. So I ate all the butter with slightly less roti and guess what? I could finish it and enjoyed it a lot. I was asked for second helpings which I staunchly refused. After all I was to walk back to the resort again!
While I was about to go back the head of the household commented that I click a lot of pictures and he knew another girl who did the same. They have a lot of goats which they take out for grazing up to the borders of UP and MP (states in India). He said the foreigner girl traveled with them for a year and a half clicking pictures! Now that is some way to travel! I wonder if I would ever have the courage to travel with a herd of goats and their owners!